CERTIFICATE OF REGISTRATION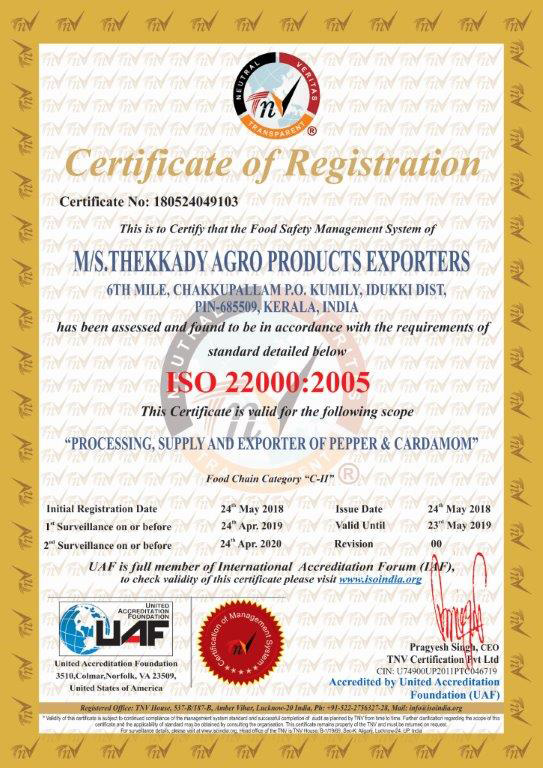 ABOUT THEKKADY AGROU PRODUCTS EXPORTERS
From the home of spices, Thekkady, acclaimed the world over as the most exciting hill resort, with lush green pepper gardens giving the right backdrop, comes some of the finest spice products.
With all freshness from the spice land at an altitude 5000 feet above sea level, Thekkady Agro Products Exporters, Kumily presents a range of exotic products. Dehydrated green pepper, green pepper in brine, black pepper, white pepper etc. Our unit has facilities for cleaning, gardening, processing, packaging, warehousing etc with full proof system of quality assurance with a laboratory.
People who know pepper in intimate terms, with tested technology give you the best-in terms of quality and price. Thekkady Agro Products Exporters procure high quality pepper, right from the growers chosen with care to ensure consistency in quality and freshness. In the various stage of processing utmost care is taken and in the final stage of packing and upto shipments, strict monitoring is done ensuring exacting hygienic conditions and conforming to the international standards, and customer requirements..
WHAT WE DO
We are among the leaders in spice exporting in India. We mainly deal with White Pepper, Black Pepper, Pepper Inbrane, Dehydrated Pepper, Pink Pepper Inbrane etc. We have an expert team of staff and technicians to handle processing operations like boiling, peeling, drying, packing etc.
We have got ample warehoousing facility. Our factory machinery and systems are at par with international standards. We are located Idukki Dist which is the prime spice production centre in Kerala and India. We have clients all over the world. We keep very high quality standards. We never compromise on quality. Its perhaps the reason for our fast progress in recent years.
We hope to expand our reach in the international spice business arena in the near future. We will shortly into other areas of spice business. We are establishing a quality control and research lab.